1 Million Cologne By Paco Rabanne Eau De Toilette Spray 4.2 Oz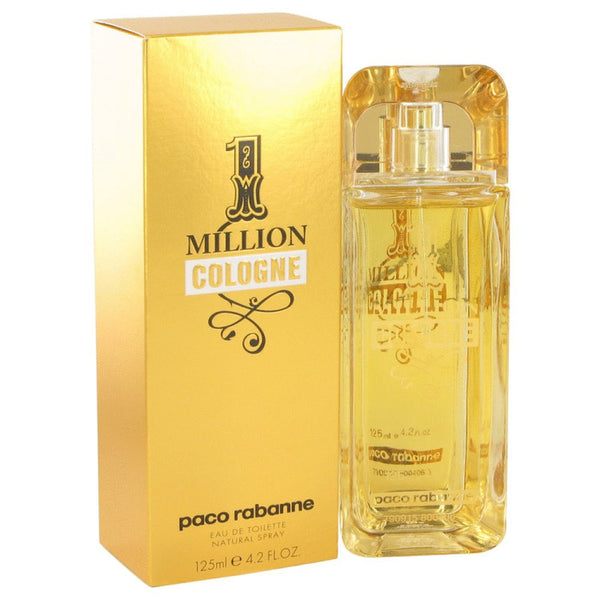 1 Million Cologne By Paco Rabanne Eau De Toilette Spray 4.2 Oz
Description:
Indulge in a bed of luxurious gold essences when you spritz yourself with 1 Million Cologne. Designed for men this aromatic mist is made of refined and exquisite elements that epitomize a man of charisma and elegance. Launched in 2008 this masculine fragrance is inspired by the 1967 dress of a French singer that was designed by Paco Rabanne. It arrives in a sparkling square-shaped gold flacon that resembles a bar of gold.
The dazzling audacious scent opens with the invigorating notes of citruses sea water mandarin orange and cardamom. It leaves a fresh and oozing sensation to whoever wears it. The heart is infused with the piquant and bracing accent of juniper berries followed by the virile nuance of rose. The final accords induce a velvety touch with the musky scents of tonka bean leather and patchouli. There is perfect balance in its blends vivacity.
Francisco Paco Rabaneda Cuervo commonly known as Paco Rabanne is an eponymous French designer in the 1960s. He started his career as a creator of jewelry for some of the most prestigious companies including Givenchy Dior and Balenciaga. In 1966 Rabanne founded his own fashion house. His collections were made using outlandish materials such as metal paper and plastic. This line of clothing labelled as Metal Couture served as his milestone in entering the world of fashion. This multi-talented designer was also recognized for his excellency in creating costumes for artists films and concerts.
Aside from being a creator of clothing masterpieces he also ventured into producing mists. In 1968 Rabannes perfume was established in collaboration with Puig. With its success in the market the company eventually built their own factory of scents in Chartres France. The houses first fragrance -was followed by a series of original and contemporary scents that definitely suit ones personality.
Designed For Men
This product is the original authentic name brand and NOT a knockoff or imitation.